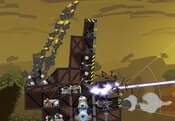 Forts FREE GAME · PLAY ONLINE
Who said that destruction and construction are incompatible things? In this game, players will recognize a different version and feel a lot of adrenaline! Immerse yourself in this world and be careful to properly manage the resources received.
Build a fortress, upgrade your arsenal of weapons and technologies! Be thoughtful to understand where the opponents have weak points and strike there! The structure must withstand all possible attacks from enemies, so place only the best guns there!