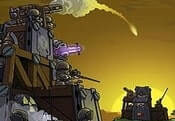 Forts Multiplayer FREE GAME · PLAY ONLINE
In this game, players will go into a world where they need to confront enemies. To do this, build a structure that can shoot. The higher it is, the better, so remember! At the top there will be weapons that constantly need to be improved to keep up with the times.
In addition, do not forget about opponents who will also attack your domain. The fans must do everything possible to end this with a victory! Move forward and constantly improve to get rewards! Are you ready to feel the adrenaline?