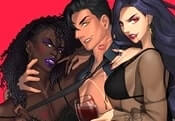 First Bite FREE GAME · PLAY ONLINE
In this challenge, players will take on the role of an ordinary guy. He loves to write fanfiction and is also a fan of all things supernatural. He really does not have a self-preservation reflex and therefore he constantly risks his own life. One day, he enters a house of creepy legend.
Inside, he finds three vampires with whom he has to make a deal. Be careful because there are about 25 ways to die here. There will be many amazing moments that everyone will enjoy. Experience fear and misunderstanding!