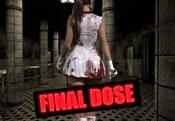 Final Dose FREE GAME · PLAY ONLINE
The main character of the game received a letter inviting him to the hospital. There is a dangerous virus in the world and you need to get vaccinated. Players find themselves in a creepy place with a mad nurse.
She starts to give the injection and this is not what it was supposed to be! Don't let her do this again! Run as fast as possible and hide if you realize that she is close! Explore each room, but first you need to find the keys. Solve puzzles and remember that this monster can see and hear you!