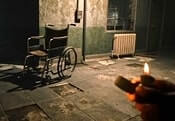 File Destined FREE GAME · PLAY ONLINE
This world is in an apocalyptic style and incredible events await players here. Take the role of one of the characters who will try to survive here. Almost the entire population turned into terrible monsters. The only thing that can help humanity avoid death is a secret item.
They say that with this, everything can return to its place and the chaos will disappear. Participants will have to solve puzzles, interact with other characters and explore the territory in File Destined. Make the right decisions!