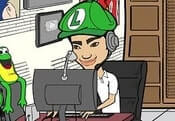 Fernanfloo Saw Game FREE GAME · PLAY ONLINE
This is an adventure challenge that takes users on a wild and exciting journey. You have to go through a confusing and dangerous world. Players must help the main character overcome many difficult traps and obstacles.
They will get harder, but you have to rescue his kidnapped dog. The game features many different missions, each with its own set of tasks. You must interact with various objects in order to move forward. Use your wits, logic and quick reflexes to overcome barriers and defeat enemies.