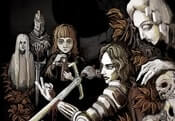 Fear & Hunger FREE GAME · PLAY ONLINE
Descend into the world of a dungeon that has been swallowed up by darkness. In this game, players will meet four characters. They are seekers and must explore all the territories available to them. Don't forget that there are a lot of different dangers here!
Every time they become more terrible and creepy! Will you be able to unravel all the secrets that are hidden here? This will not be easy, because at every step there will be surprises that will prevent you from doing this. Good luck!