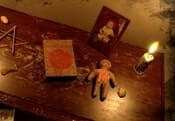 Father's Day FREE GAME · PLAY ONLINE
Father's Day has a few psychological moments, so be careful! Here, players will control three different characters. This is a policeman, a man with a missing child and a scientist. Their lives really intersect with each other and you have to find out the whole truth.
Roles will switch and you must memorize all the information! Explore locations and find clues that will lead to the truth! Take your time and be very careful to find hidden items and notes! It will be exciting, so don't miss anything!