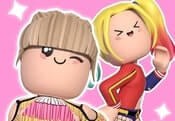 Famous Fashion FREE GAME · PLAY ONLINE
In this game you have to create an amazing look! At the beginning of the level, you will learn about what event awaits you at the end. Players now need to walk down a long runway to select the appropriate clothing. Collect skirts, jeans, t-shirts, hats and more accessories!
The difficulty lies in the fact that time is limited and you need to hurry. There are too few tickets, so you should have time to get one of them! It will be very exciting and interesting, so the real fans will appreciate it at the highest level.