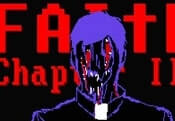 Faith: Chapter 3 FREE GAME · PLAY ONLINE
Faith: Chapter 3 is the sequel to the Horror Challenge. You've been through a lot in the previous installments, but this isn't the end. The main character is a priest who constantly has problems. In this part, he will meet a mysterious guy who will raise suspicions.
With his help, the hero will begin his journey through a small and gloomy village. This time a very creepy and difficult task awaits him! There is a cult that worships Satan and it must be destroyed. Go through all the trials and accomplish the goal!