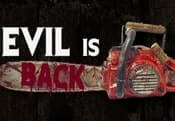 Evil is Back FREE GAME · PLAY ONLINE
This game is based on two parts of the famous horror movie. Today, players will learn about a few friends who decided to have a fun weekend. They went out of town to spend time in the middle of the forest. The hut looks unsafe, and all around is silence and darkness.
The main character found a strange book and the guys began to read it. After the end of this, real madness begins and they are trapped! Now they have to get out of here, but how can they do it? Close the portal to the world of the dead as soon as possible!