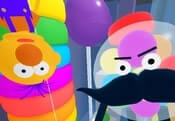 Escape Mr. Gumdrop's Candyshop FREE GAME · PLAY ONLINE
Welcome to the store where they sell the most delicious sweets! They say that there are very angry sellers working here. Now you have to run to escape. Just don't stop, otherwise he will catch you! In Escape Mr. Gumdrop's Candyshop players will control the hero and hit the road.
It will be long and maze-like, so be prepared! Turn in different directions and do not brake, because you may fall down. Also, be careful because there are too many barriers on the territory that can interrupt the process.