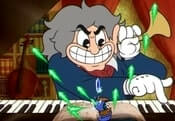 Enchanted Portals FREE GAME · PLAY ONLINE
The story of the game will tell about two amazing heroes. They love adventure and no one can stop them! But suddenly a disaster occurred that slowed down their movement. They are stuck in one dimension and now they cannot get out.
The guys must make every effort to return back home! Players will have to help these friends overcome all obstacles and return the lost book. In addition, there will be many enemies on the territory, so be careful! Will you be able to fight and win with all of them?