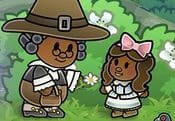 Echoes of the Plum Grove FREE GAME · PLAY ONLINE
Players will go to an island where they will create a farm! In Echoes of the Plum Grove, you have to make important decisions to make the area even better! Use logic and be careful to achieve good results! Get to know your neighbors and understand who they will be to you!
Friends or enemies? Get ready for winter and start collecting the necessary items! Nothing should die and we are not just talking about plants now! May this ranch remain in the future and be looked after by the young lady's relatives!