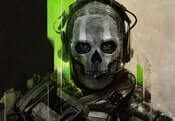 Duty Call Modern Warfate 2 FREE GAME · PLAY ONLINE
This time the planet is in great danger! If you fail to do this, then all of humanity will die. In Duty Call Modern Warfate 2 you have to go to the hottest spots in the city to fight against opponents. Arm yourself with powerful weapons and go to fierce and dynamic battles!
Players will have to show their dexterity and accuracy in order to successfully complete the mission. Shoot and don't forget to hide in secluded places when the enemy opens fire! Constantly upgrade your gear and become a true master of mods!