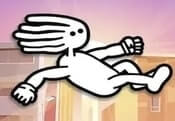 Dreadhead Parkour FREE GAME · PLAY ONLINE
Incredible stunts that only a professional athlete can perform. How long can you look at your target? And how fast can you complete the most difficult trick? Learn as you tame your occupation. Forget about fear and get ready for incredible discoveries. It turns out that the world is completely different if you look at it upside down.
Perhaps you have a hidden talent of a parquer who is able to conquer the most incredible peaks. The game will teach you how to manage not only your body, but also space. Realistically evaluate your capabilities and start acting.