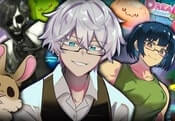 Dread Weight FREE GAME · PLAY ONLINE
The plot of the game tells about how the main character was locked up. This is a huge mansion in a dilapidated state! A witch lives here and now she will follow you to kill you. The main task here is to deceive her in order to stay alive and escape.
Find items and use them in missions! Set traps to buy time and reveal all the secrets! In addition, participants will have to solve puzzles where you need to think outside the box. How will you introduce yourself if you suddenly encounter ghosts?