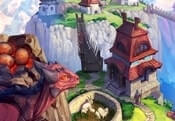 Dragonscale Monastery FREE GAME · PLAY ONLINE
In Dragonscale Monastery, you will embark on an exciting trip to uncover the secrets of a legendary ancient temple. In the role of a brave adventurer, you must go through treacherous locations. Will you be able to solve entangled puzzles and not go crazy?
Along the way, you will encounter mythical creatures and unlock powerful abilities that will help you on your trip. This territory holds artifacts and hidden knowledge that can change the fate of the world! Find the whole truth!