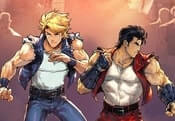 Double Dragon Gaiden: Rise Of The Dragons FREE GAME · PLAY ONLINE
After a nuclear war, one of the cities became almost empty. People are weak and cannot even protect their own lives. The plot tells about a group of bandits who invaded here and wanted to appropriate all the power.
Now chaos and madness reigns in the streets due to their negative actions. But the main characters of the game do not want to allow the worst outcome of events! The players will help the young guys to remove the criminals and bring back the old days! Engage in battles with bats and other weapons!