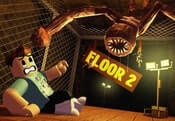 Doors Floor 2 FREE GAME · PLAY ONLINE
Today, players will be able to visit the mystical hotel again. Doors Floor 2 opens up new possibilities in which you have to experience extraordinary sensations. Visit an additional location with rooms you haven't seen yet!
In order to get to the end you need to enter each of them. No one knows what is inside, so for everyone it will be a mystery. Collect keys and other clues to successfully complete the mission. Here you can also team up with your comrades to make the process even more interesting.