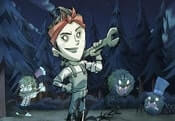 Don't Starve Update FREE GAME · PLAY ONLINE
In Don't Starve Update, players will still be as Wilson. He's a plucky scientist who is on his way to great success. But that all changes when a horrible demon kidnaps the character! Now it's up to him to survive in a new dark world and discover new abilities.
With the help of magic, you can achieve the results you want. But will it be easy when you meet the horrible creatures that live here? Explore the area and find useful resources, materials and tools! Solve all the mysteries of this universe!