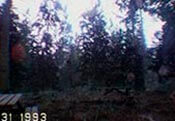 Don't Scream FREE GAME · PLAY ONLINE
In this challenge, an almost impossible mission awaits you! The task seems simple – just go into the forest. But as soon as you start this path, you will understand that it can end badly. The main goal is Don't Scream!
The peculiarity of the process is that time only passes when you move. Just 18 minutes of horror and fans can become winners! Creepy moments will appear unexpectedly, so it's impossible to predict. How quickly will you give up or are you a really brave person? Will you manage not to flinch?