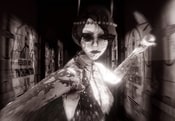 Dollhouse FREE GAME · PLAY ONLINE
The plot of the game tells about a woman who works as a detective. After a terrible event happens to her, she tries to sort out her thoughts. She completely lacks any memories and you must help her remember at least something.
Watch as she unravels the mysteries of her past as she unravels. The atmosphere will be terrible and strain every second. Search all the rooms and don't forget that you can make a kill! The pursuer is already very close and meeting with him will change the whole plot!