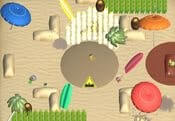 DodgeBomb FREE GAME · PLAY ONLINE
In this game, players will visit a cool and high-quality atmosphere. You will control a ball made of fire. Learn to act boldly and deftly to defeat this enemy! On the way there will be various obstacles in the form of opponents.
Destroy them in every possible way and discover new ones. In addition, fans can invite friends to make the process even more interesting. Will you be able to demonstrate your accuracy? After destroying a certain number of competitors there will be an explosion with bonuses!