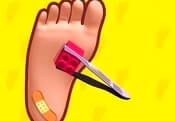 Doctor Care FREE GAME · PLAY ONLINE
If you enjoy healing or helping people, then Doctor Care is for you! In this challenge, you will go to the hospital where you will provide care to clients. Can you complete the levels in each block? First, the players will go to fix the problems that are located on the feet.
Once you're done with that, then visit a new location with missions. Be careful to find the right ways and become a master! Conduct consultations, perform operations, dressings and much more! Try different approaches to patients!