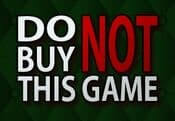 Do Not Buy This Game FREE GAME · PLAY ONLINE
Don't look at what's in this game. At least that's what the author says. Those who ended up here will really regret it! Try to explore this territory and stay here until the end! The narrator will speak to participants throughout the process.
Strange actions and scenes will make you think about whether it is true or fiction. For example, using the stairs to the top, users will go down. Or pressing a random button will cause many unexpected and absurd events. Do you still want to start?