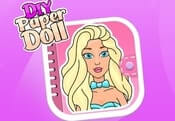 DIY Paper Doll FREE GAME · PLAY ONLINE
Everyone who had a perfect childhood remembers this entertainment! In DIY Paper Doll, players will be able to remember the good times and enjoy it. You have to take scissors and cut along the outline of the picture.
It will be a beautiful girl who needs to be dressed in fashionable clothes. How cool that now you can do it without getting out of bed! Continue the process until you are satisfied! Then you have a chance to repeat it and fix some mistakes. Feel like a designer and stylist!