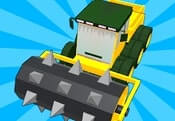 Demolition Car FREE GAME · PLAY ONLINE
Go to the territory where there will be a huge amount of transport. Players will control one of them and complete cool tasks. The main goal is to do everything possible so that it is not completely destroyed. Collect all the coins while taking part in the levels!
Opponents will try to strike, but be nimble and avoid them! Complete challenging missions to unlock new colors and more! Improve your skills to become a master in this game! Keep moving and don't stand still because it can end badly.