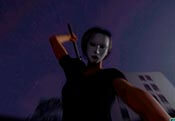 Dead Signal FREE GAME · PLAY ONLINE
There are organizations in the world that are concerned with dark deeds. All this can be found on the Internet and it has many viewers. One of these companies has hired you as their employee. In this game you have to go to a residential complex and install cameras inside.
There will be about twenty of them in total and you need to monitor each one. Someone else's kitchen, corridors on the floor, parking and more. Can you install one on your roof? Be careful not to crash, otherwise you will lose your salary!