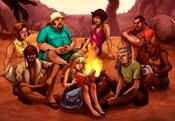 Dead In Bermuda FREE GAME · PLAY ONLINE
Once the plane was flying over a deserted island and crashed. Now players will observe the development of events in which a group of survivors takes. There are eight of them and each of them has to do important things.
In Dead In Bermuda, users will distribute them in the correct order. Someone will be responsible for security, someone for food or water and so on. You must ensure that people do not die of starvation or the clutches of a predator! Create a camp with ideal characteristics and features!