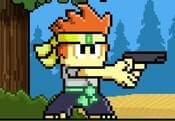 Dan The Man FREE GAME · PLAY ONLINE
This is an arcade style challenge that offers you an exciting and challenging adventure. You have to visit different levels of combat! Control a brave character who must save his village from evil forces. Help him complete all tasks, fighting off opponents and collecting bonuses.
Don't forget to upgrade his abilities to become more powerful. The game has single player and co-op modes where you can team up to defeat the dangerous ringleader. Try to cope with such responsible missions!