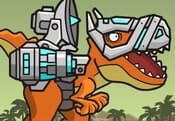 CyberDino: T-Rex vs Robots FREE GAME · PLAY ONLINE
In CyberDino: T-Rex vs Robots, players will control a dinosaur. The main task is to fight to the victory! You have three abilities that can be selected depending on the situation. Go to the locations where the character will be attacked!
With each new one, opponents will become more powerful and aggressive. After each successful round, fans will receive loot. The coolest ones come across when members defeat bosses! Use them to unlock new weapons and other useful items! Outsmart your enemies!