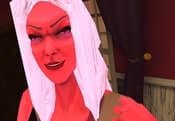 Curse of Stepmother FREE GAME · PLAY ONLINE
Curse of Stepmother will send players to a spooky mansion. This older woman is not your mother, but she has a different opinion. She will try to kill everyone who comes to her! Players will have to quickly get used to this territory in order to escape.
Also, everyone should behave quietly, because the enemy has a very well-developed ear. If the monster hears at least one of your steps, it will catch up and kill you. For this reason, the fans have to control every movement and sometimes even not breathe.