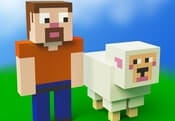 CubeCraft FREE GAME · PLAY ONLINE
Welcome to the world where you need to build! CubeCraft resembles the famous process where everything is made of squares. Players will have to start the robot in order to create the ideal arena. Control a character who will move around the location.
There are a huge number of resources and materials with which you can interact. As soon as you approach them, you will automatically send them to inventory. Then the participants can use them to build a house, a barn, and more. Follow the storyline!