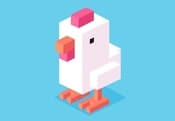 Crossy Road FREE GAME · PLAY ONLINE
Crossy Road is a fun and addictive arcade that will surprise everyone. Here, participants need to lead the character through an endless series of obstacles and dangers. You will need to guide your hero along busy highways, turbulent rivers and other turbulent places.
You can control animals, robots and even celebrities! The task seems simple, but in reality it will be completely different. Be careful not to fall into one of the traps! In addition, you can earn points and rewards for reaching goals!