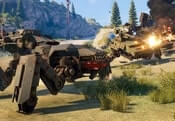 Crossout FREE GAME · PLAY ONLINE
Are you ready for the craziest battles? In Crossout, players will visit the arena where significant events will take place! Everyone will have an armored vehicle with which to carry out attacks. It also includes weapons that can be upgraded.
Explore a vast territory and neutralize all opponents! Enemies will try to be invisible, so keep your eyes open! Don't hesitate and hit them to become the winner. Buy new vehicle parts and become even more powerful! Here you need to be on the alert and think clearly!