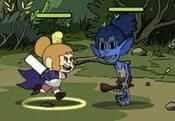 Craig of the Creek – Legend of the Goblin King FREE GAME · PLAY ONLINE
This game was inspired by the famous cartoon which has many trips. Here, players will have to help cool creatures fight dangerous opponents. These guys are very brave and ready to start destroying zombies and other creatures!
It all started when an evil goblin boss stole a book and kidnapped one of the heroes. Now a team of friends are sent to solve this problem! Collect candies that drop out after victories and unlock new abilities! Trade it for weapons and other necessary items!