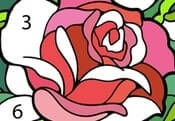 Color By Number Online FREE GAME · PLAY ONLINE
Art needs concentration and time for becoming a masterpiece. For smartphones, the option is the best among analogues. Here you can immediately paint over areas, quickly switch between colors, select your favorite paintings, add them to your favorites, and even save your creativity to the gallery. But it is worth noting that with the addition of your own pictures to the application, it becomes more interesting.
Color by Number Online catches with its mechanics. Swiping across the screen is relaxing. The time spent on this task is a pleasure.