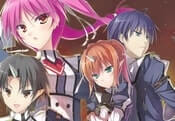 Chrome Wolf FREE GAME · PLAY ONLINE
The main character is a soldier who has lost a close comrade. He decides to reveal the whole truth, he succeeds! Now he is in a detachment that is considered independent and fights for freedom. In Chrome Wolf, players will take part in exciting battles.
To do this, you have to master the skills of driving tanks! Show all your power in order to become invincible! In addition, you can customize the guns to attack opponents with great accuracy. Choose heroes with specific classes to have cool ammo!