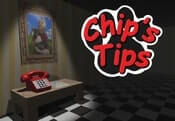 Chip's Tips FREE GAME · PLAY ONLINE
In this challenge, players will try to create an amazing party. It will be in honor of Halloween and therefore the atmosphere must be creepy. The main character is the host of a famous children's show called Chip's Tips.
He has a cool assistant which is a dog in the form of a sausage. You have to explore the man's house and find all the necessary attributes for the holiday. On the way you will meet crazy heroes with whom you need to chat. Can you handle it all? Pay attention to the details, they might come in handy!