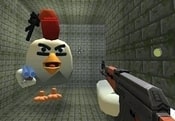 Chicken Gun FREE GAME · PLAY ONLINE
Have you ever thought about the war between birds? They sit in the barn and just enjoy life. What kind of conflict can we talk about? In Chicken Gun you will change your mind and be surprised! There was a quarrel between the characters and now they have weapons in their paws.
Become witnesses of bright fights on the streets of the city! They are good at shooting and aiming accurately, which can earn extra points. In addition to powerful and memorable battles, there will be a lot of fun.