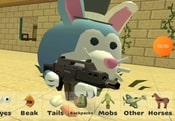 Chicken Gun Update FREE GAME · PLAY ONLINE
In this game, you will go to the barn and learn about new chaos! There's been a coup and now pet birds have weapons in their paws! Witness this crazy water and have fun! Visit locations where there are many enemies and be dexterous to destroy as many of them as possible.
Shoot the chickens and don't let them attack again! Also in this version, players will be able to find vehicles and drive. This will help you get to the right points on the map faster and get the results you need. Enjoy and have fun!