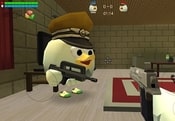 Chicken Gun 2 FREE GAME · PLAY ONLINE
Finally, the bird fights continue! In Chicken Gun 2 players are waiting for new events that will be remembered for a long time. Go to the territories where the fighting is going on and take an active part in them.
Here, participants will control the chicken and direct it in the right direction. Use weapons and shoot at enemies to become the leader on the battlefield! Sometimes it will be tense, but mostly it will cause laughter. So try to become a master and don't forget about cool vehicles!