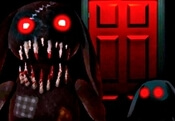 Chester: Into The Light FREE GAME · PLAY ONLINE
Chester: Into The Light combines several genres. Here you will experience horror, elements of adventure and mental stress. The main character suffers from nightmares that torment him every time. You have to climb into one of them while the guy is sleeping and find out the whole truth.
Try to get out of there safe and sound to understand what it all means. Along the way, you have to solve puzzles in which you need to be attentive and quick-witted. Pay attention to the minor things because they can be clues.