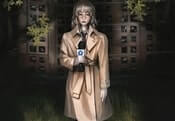 Channel 7 FREE GAME · PLAY ONLINE
Players of this game will take on the role of the operator. Go with a journalist to one of the creepiest places! This city seems empty, but the inhabitants are still here. They say that something terrible lives in this territory, but you don't believe it.
Upon arrival, it becomes immediately clear that everyone was right! Don't just stand there and start this investigation! The process will give you goosebumps and make you afraid, but don't give up! Will you be able to find out the whole truth?