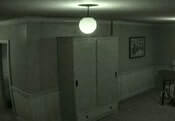 Caught On Camera Game FREE GAME · PLAY ONLINE
If you don't mind tickling your nerves, then start the process as soon as possible! In Caught On Camera Game, players will go to a huge mansion. There are many rooms here and you should visit each of them. The goal is to find as many anomalies as possible.
Will you be able to spend time here until 6 am? Arm yourself with patience, courage and attentiveness, otherwise you will not be able to cope! We hope you have a quick reaction that will help you survive this creepy challenge. Good luck!