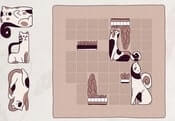 Cats Organized Neatly FREE GAME · PLAY ONLINE
Do you love little kittens? Then Cats Organized Neatly will seem like a real paradise for you! Here players will go to an area full of these sweet creatures. To be more precise, there are thirty of them here and they are all unique.
Different shapes, colors, ages, etc. will make everyone look! The main task is to put the animals in the correct order. To do this, click on the characters and look for a place for them! Plus, fans can flip them over to get the look they want! Don't be afraid, they don't bite or even hiss!