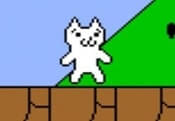 Cat Mario FREE GAME · PLAY ONLINE
In Cat Mario, players will control a cute and innocent-looking character. It travels through a dangerous and unpredictable world filled with traps and obstacles. Despite his cute appearance, he is capable of much!
Now he will go on important missions instead of a plumber! You have to help him cope with all the problems on the way. Jump to climb the platforms and collect coins. Be careful to reach the finish line. Over time, you will be able to improve skills and discover new ones!