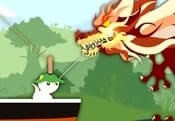 Cat Goes Fishing FREE GAME · PLAY ONLINE
This is a fishing simulator with a side view. Replete with a large number of different types of fish, a solid amount of upgrade for your equipment. No seriously, there is no deep story or complex gameplay. Just over and over again you throw a bait, sell the caught fish.
With everything you earn, you buy upgrades and swim more and more to remote fishing spots. Cat Goes Fishing is soft cartoon graphics, primitive actions. As well as soft relaxing music. This is all you need for a good holiday.