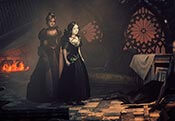 Castle of Secrets FREE GAME · PLAY ONLINE
The main character is a girl who is cursed. Who or what killed her entire family? The father died tragically, the mother almost went crazy, the stepfather is very strange. Despite the fact that they are all rich, this did not save them from troubles and dangers.
In Castle of Secrets, players will go to a huge mansion to explore. There are many mysteries inside that will lead to the real truth! Be careful and focused to complete about 20 levels. They all make up one plot, which adds interest!